Welcome to Happy Family Therapy

Life is full of challenges. We can handle some of them successfully, but others can make life very difficult for us.

Challenges and difficulties are never coincidences. Every one of them are carefully composed within the great symphony of life; precisely planned; no mistakes.

Painful experiences do feel like mistakes in our life's music piece, but most of the time they are not.

This website gives information about the problems we cope with in our daily lives, such as depression, anxiety, phobias, obsessive compulsive disorders, addictions, eating disorders, traumatic events, physical conditions and sexual abuse and the healing that is possible through Inner Child Therapy. Discover the miracle that Inner Child Therapy can have in store for you.

The face of a family is different for everyone. Some of us grew up with a mom and a dad but in recent times things have changed. Families look different. Some families have only a mom or a dad; in some families children grow up with their grandparents; in some families there are no children. Whatever the face of your family, this website is about bringing happiness, fulfillment and peace to your family. Discover through reading the pages on Children and Parents how you can turn your family into a peaceful sanctuary for every member.

Learn how the feelings and behavior that you experience now, which may be troubling you, has started a long time ago in your childhood. Discover how you can erase these feelings and change the behavior by finding your inner child and healing his wounds.

Every happy and painful event that takes place in our lives - be it as an adult, child or baby - has a spiritual gift awaiting us.

This website is about discovering the hidden gifts of life; gifts concealed by tears; gifts hidden in painful relationships; gifts that can change your life; gifts acquired for eternity - if only they can be found.

This website is about changing you and your family's life. Forever.
About the therapist
Marié Sonnekus lives in Bloemfontein, South Africa. She is married to Renier and has two daughters, René and Zanél.
Marié works in Bloemfontein, Johannesburg and Cape Town.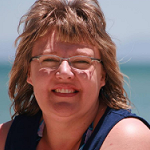 Marié began her studies at the University of the Free State in Bloemfontein.
She completed an Honors Degree in Psychology and went further to complete an Honors and Masters Degree in Practical Theology, which qualify her as a Pastoral Therapist. [B.Soc.Sc. (Psychology), B.Soc.Sc. Hons. (Psychology), B.A. Hons. (Theology), M.A. (Practical Theology)].
She believes strongly in the healing of a person's soul rather than in just doing ordinary therapy when working with adults and/or children.
The healing power of God is always the most important aspect of the healing process.
Please take your time to read about the journey of healing that can be a life-changing experience for all of us.